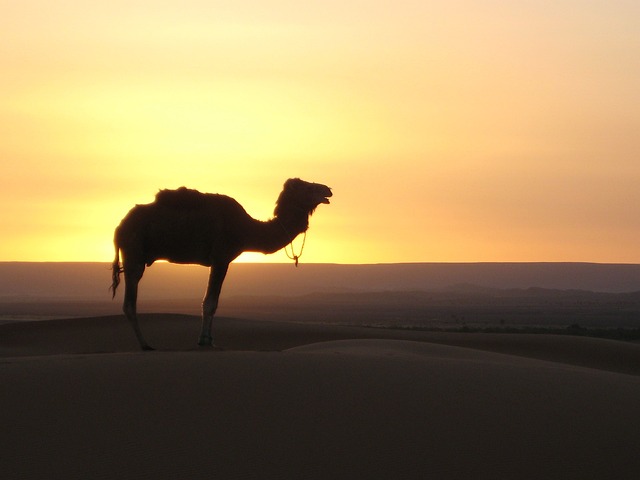 More of the south of Morocco (including caravan trek)
HIGHLIGHTS
5-days trip from/ to Marrakech, experiencing the south of Morocco
Kasbah, tiny villages, oasis and trekking in Erg Chegaga, which has not the highest dunes of Morocco, but in our opinion the most beautiful
DESCRIPTION
Day 1: Marrakech – Ouarzazate – Draa Valley – Zagora -Tinfou Dunes
You will be picked up by the driver  at about 8:00 am and go (air-conditioned car) to the Atlas mountains, crossing Tizi 'n Tichka pass. Along the way you'll stop for breakfast and for taking photographs. You'll visit the UNESCO world heritage of Ait Benhaddou, Morocco's most famous ksar (ksar = old village of kasbahs). Lunch will be in Ouarzazate or Agdez. Continuing the way, you will pass Draa Valley and its picturesque palm groves and kasbahs. You'll arrive in the village Tamegroute, where you will meet your camels that will take you to the dunes of Tinfou. You'll arrive at Camp Tinfou after a ride of about one hour, in time to enjoy the unforgettable Sahara sunset. In the evening you are welcome to drink tea with the nomads, have dinner and then enjoying traditional Berber music around the open fireplace. You'll spend the night in a comfortable tent.
Day 2: Tinfou – M'Hamid – Caravan trek
Wake up early to see the sunrise, then enjoy breakfast, before leaving your peaceful desert camp. Your driver will take you to M'Hamid, where you will once again enjoy a camel ride in the desert. Guide and camel driver stop for tea, meals and the necessary breaks in the middle of the dunes. Afterwards we will cross some small dunes and find a pleasant place to set up the camp, where you spend the night. Overnight under the stars or in tents, depending on the season.
Day 3: Erg Chegaga – the big desert of Morocco

After breakfast in desert, we continue our travel. We are crossing the big wasteland and go by 4WD to the dunes of Erg Chegaga. On the way we'll visit an oasis, and possibly an authentic nomad camp. The Erg Chegaga dunes are the largest group of Sahara dunes (while the highest ones are in Erg Chebbi). Enjoy the golden sunset of desert before having a traditional dinner and spending the night in a Berber tent.
Day 4: Erg Chegaga -Tamegroute – Gorges of Dades valley
After breakfast in Erg Chegaga camp, we will depart via 4WD to traverse the old Paris – Dakar race road to Tamegroute. In Tamegroute we'll have lunch and visit the old and famous Koranic library, which historically has been a favourite location for Koranic and Islamic teaching. We'll then depart to finally reach spectacular Dades Valley, on the way stopping for tea in the village Nkob and afterwards crossing the Saghro Mountains. In the afternoon we'll travel through a series of rugged limestone canyons, carved by the river. Reaching Dades valley, we will have dinner at a hotel, you'll tuck in for a good night's sleep.
Day 5: Dades valley – valley of Roses – Kelaa M'Gouna – Skoura – Marrakech

After breakfast, we'll depart on a 1.5-hour scenic walk, then load up for a memorable drive through the spectacular Dades Valley, towards the village Kalaat M'Gouna and Ouarzazate. The route through the Dades Valley, called "Way of 1000 Kasbah" offers singular photo opportunities. After touring the Valley of Roses we'll have lunch in the village of Skoura, where the family of our friend Fatima is welcoming us. Then we will continue to Ouarzazate. We'll go back through the Tizi n'Tichka pass (altitude: 2260m), pausing to admire the impressive views. In the late afternoon we'll arrive in Marrakech, and take you to your riad or hotel.
4WD jeep or minibus, caravan trekking with dromedaries
Dinner and breakfast are included in the price (halfboard). Lunch and drinks are not included. Please let us know, if you are vegetarian.
Our prices are INDICATIVE and may vary, depending on high or low season, as well as on the size of the group. Ask us about your preferred tours, we are always pleased to offer our cooperation and make you a personalized estimate. All our trips and workshops are subject to change, depending on your needs and wishes.
Tour vehicle with air condition
English speaking driver/ guide
Fuel
Transportation insurance
Overnight stays in traditional, pretty Riad (breakfast & dinner included)
Camel trekking
Tent for caravan trekking
Traditional music in desert
Overnight in desert camp (breakfast & dinner included)
Local guide in desert and kasbah
Lunches
Drinks
Entrance fees